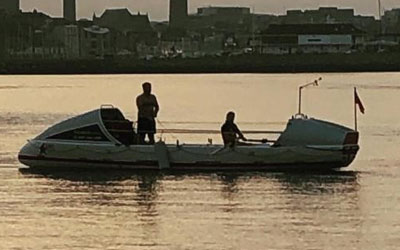 Tetbury news: Friends to take on 'world's toughest row for Elijah
Last week you may have seen a boat named Lady Jayne and some of its crew being interviewed at Cutwell which is a small tributary of the River Avon that flows across Cutwell.
Famous for its triangular arch bridge, it is a Grade II listed former packhorse bridge and footbridge built c1622.
And it's tranquil setting will be a far cry from the plans for this boat and crew to row across the Atlantic next year, raising funds and awareness for the children's charity, Action Medical Research.
Action Medical Research is the charity fighting to help sick babies and children.
Action funds critical research which helps find answers that can lead to vaccinations, treatments and cures for childhood diseases and premature birth.
Next year in December 2021, team Elijah Star will depart La Gomera, Canary Islands to Nelsons dockyard English harbour Antigua and Barbuda, as part of the Talisker whiskey Atlantic challenge 3000 mile rowing race across the Atlantic.
They have set the target at 37 days which represents the brief life of baby Elijah, a premature but much loved son and brother who sadly lived after just 37 days.
You'll be able to hear an interview with Dean and Phil from Elijah's Star with Nicky Price on her BBC radio Gloucestershire show this Saturday.